You are here: Home>Articles> How Baha'is Usurped Muslim Endowments by the Help of the Israeli Government
---
Mazra'ih (Masra'ih) is the name of a mansion and surrounding land that Baha'u'llah had lived in for two years when he was 'allegedly' imprisoned in Palestine. According to an article in the Baha'i magazine, Baha'i News, this land belonged to the Muslims and could not be legally sold to the Baha'is:
"Masra'ih is a Moslem religious endowment, and it is consequently impossible, under existing laws in this country, for it to be sold. However, as the friends are aware, the Ministry of Religions, due to the direct intervention of the Minister himself, Rabbi Maimon, consented, in the face of considerable opposition, to deliver Masra'ih to the Baha'is as a Holy Place to be visited by Baha'i pilgrims. This means that we rent it from the Department of Moslem and Druze affairs in the Ministry of Religions. The head of this Department is also a Rabbi, Dr. Hirschberg. Recently he, his wife and party, visited all the Baha'i properties in Haifa and 'Akka, following upon a very pleasant tea party in the Western Pilgrim House with the members of the International Baha'i Council." (Baha'i News, no. 244, June 1951, p. 4)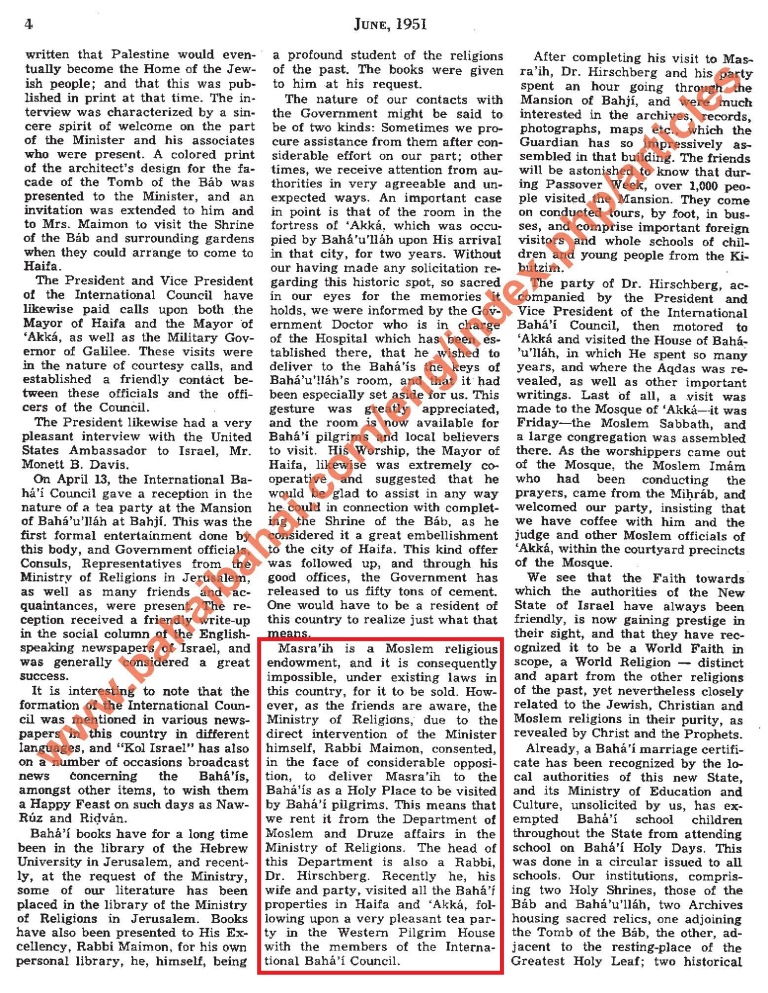 According to this document the land was forcefully taken from the Muslims and delivered to the Baha'is in return for a rent which was paid to the Israeli government.
A few years later, the land is officially usurped for good and sold to the Baha'is by the Israeli government (it must be noted that Muslim endowments cannot be sold). The Universal House of Justice then sends out a letter to Baha'is worldwide happily informing them that this Muslim Endowment –that cannot be sold or purchased- has been bought by the UHJ:
"The Mansion of Mazra`ih, often referred to by the beloved Guardian as one of the "twin mansions" in which the Blessed Beauty resided after nine years within the walled prison-city of `Akká, and dear to the hearts of the believers by reason of its associations with their Lord, has at last been purchased together with 24,000 square metres of land extending into the plain on its eastward side." (The Universal House of Justice, from Ridvan 1973 message; Messages from the Universal House of Justice, 1968-1973)
Is this an achievement that one should be proud of?
Baha'i faith, Baha'i cult, Baha'ism, Bahai, Baha'u'llah, Kitab-i-Aqdas, Curse, Subh-i-Azal, Mirza Yahya Subh-I Azal, Hypocrisy, Twelve Baha'i Principles, 12 Baha'i principles, Baha'i teachings, Baha'i Principles, Baha'i beliefs, Baha'i, Baha'u'llah, Abdu'l-Baha, the Bab, Shoghi, Independent Investigation of the Truth, Oneness of the World of Humanity,Religion Must Be the Source of Unity, Religion must be in accord with Science and Reason, Removal of all Prejudice, Spiritual Solution of the Economic Problem, Establishment of the Universal House of Justice, Universal Compulsory Education, Universal Language, Equality of Men and Women, Universal Peace, Humanity Is in Need of the Blessings of the Holy Spirit, Mirza Husayn Ali Nuri, Mirza Hossein Ali Noori, Baha'u'llah, Bahaullah, `Abdu'l-Baha, Abd al-Baha, Shoghi Effendi, Baha'ism, Bahaism, Baha'i, Bahai, Babism, The Bab, The Guardian, Universal House of Justice, UHJ, Comprehensive analysis of the twelve Baha'i principles, Shaykhi, Bayani, Bayan, Azali, Mason Remey, Orthodox Baha'i, Ali Muhammad Bab, Sayyid Kazim Rashti, Ruhi, Edward Browne, Manifestation of God, God Passes By, A Traveler's Narrative, Abdu'l-Baha in London, Bahai World Faith, Foundations of World Unity, Memorial of the Faithful, Paris Talks, Selection from the writings of Abdu'l-Baha, Some answered Questions, Tablet to August Forel, Tablets of Abdu'l-Baha, Tablets of the Divine Plan, The Promulgation of Universal Peace, The Secret of Divine Civilization, The Will and Testament of Abdu'l-baha, Epistle to the Son of the Wolf, Gems of Divine Mysteries, Gleanings from the Writing of Bahaullah, Prayers and Meditations by Bahaullah, Proclamation of Bahaullah, Tablets of Bahaullah Revealed after the kitab Aqdas, The Hidden Words of Bahaullah, The kitab i Iqan, The book of Iqan, Iqan, The Seven Valleys and the Four Valleys, The Summons of the Lord of Hosts, The Tabernacle of Unity, Bahai Prayers A Selection of Prayers Revealed by Bahaullah the Bab and Abdu'l-Baha, Compilation on Bahai Education, Compilation on Peace, Compilation on Women, Compilation on Scholarship, Japan Will Turn Ablaze, Bahaiyyih khanom, Baha'u'llah and New Era, The Dawn Breakers, Arohanui Letters from shoghi Effendi to New Zealand, Bahai Administration, Citadel of Faith, Dawn of a New Day, Directives From the Guardian, God Passes By, High Endeavours Messages to Alaska, Letters from the Guardian to Australia and New Zealand, Message to Canada, Message to the Bahai World 1950-1957, Messages to America, The Advent of Divine Justice, The Light of Divine Guidance, The Promised Day is Come, The World Order of Bahaullah, Unfolding Destiny, Persian Bayan, Arabic Bayan, Selections from the Writing of the Bab, Century of Light, One Common Faith, Statement on Baha'u'llah, The Promise of World Peace, The Prosperity of Humankind, Baha'i cult, Baha'i faith